LX 301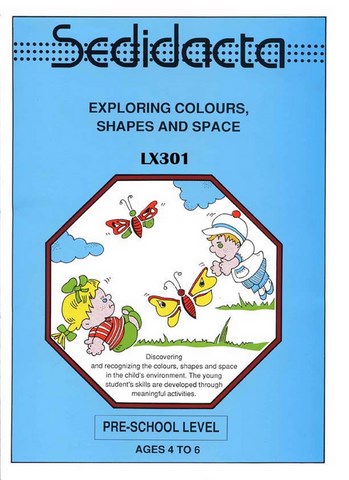 CONTENTS
1. - Colours and shapes.
Recognizing primary colours
Recognizing similar colours ... (3 additional colours)
Identifying the colour of typical objects
Activities concerning all colours
Discovering simple geometrical shapes
Identifying similar shapes
Other activities : chart with two entries
Classifying features : colours
The "and" notion
The "or" notion
The "no" notion
Classifying features : colours and shapes
or
and
More detailed perception of shapes
II. - Topology : space.
Up I Down
Above I Below
On I Under
Between and in the middle
Just before I Just after
Right /Left; To the right of ... /To the left of ...
Inside I Outside
In front of I Behind
Jigsaw puzzle
Prix de vente conseillé par le fabricant 35,00 EUR